God is so great that all things give Him glory
if you mean they should. So then, my brethren, Live.
– Gerard Manley Hopkins
The holiday that has memorialized both the event and the spirit of that thanksgiving meal of 1621 has been the inspiration and subject for many works of poetry and lyrics. From George Herbert's 1633 "The Thanksgiving" to Pierpoint's "For the Beauty of the Earth" to contemporary pop songs like Adam Sandler's "Thanksgiving Song" (1993) and Dido's "Thank You" (2000), it's a holiday that seems to incite grand gestures in poetic response. And, I guess I could have written a post about poems celebrating Thanksgiving, because it turns out that they constitute a genre in and of themselves; but, instead I want to think about the way in which poetry can give expression to that for which we have thanks as well as crystallize images for which we have grasped for sufficient or satisfactory words . Words and images are manna for my heart and spirit and it's one of the reasons why poetry often speaks to me and for me when I am beyond speaking.
"Pied Beauty"

GLORY be to God for dappled things
For skies of couple-colour as a brinded cow;
For rose-moles all in stipple upon trout that swim;
Fresh-firecoal chestnut-falls; finches' wings;
Landscape plotted and pieced—fold, fallow, and plough;
And all trades, their gear and tackle and trim.
All things counter, original, spare, strange;
Whatever is fickle, freckled (who knows how?)
With swift, slow; sweet, sour; adazzle, dim;
He fathers-forth whose beauty is past change:
Praise him.
Written by Gerard Manley Hopkins (1844-1889), this is a poem that begs to be read aloud over and again. It begs to be read slowly, softly and reflectively, and then again with gusto and enunciative care. It deserves to be read by fireplaces or recited on walks down country lanes or in the midst of big-city bustling as a moment of peaceful calm. The sounds roll around my mouth, some like tart cranberries and others like gooey caramel; the strong meat of images meeting with alliteration. The agrarian metaphor challenges me to think of thanksgiving and God as the appropriate one to whom thanks should be given as a natural a part of creation—thanksgiving being as natural as the rhythms inherent in life, alongside work and rest. The counterpoint of the mundane and, literally, work-a-day sits next to the unexpected and transcendent  – the strange, the counter, the original, the spare.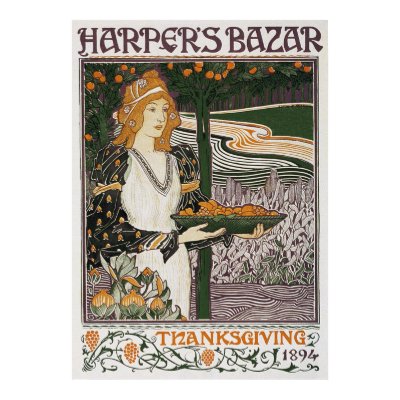 In its opening and closing, Hopkins presents the subject of the poem and suggests a response, "GLORY be to God for dappled things" should lead us, Hopkins intones, to "Praise Him."
But what of the "Dappled Things"? Of creation hit by light through leaves and branches? Or is it more like the items scuffed and marked on the reduced table at the back of the store?
Life is but a series of dappled things, things that appear to be broken or mussed. Those parts of us which seem slightly worse for wear and a little worn, a bit like our tempers. Some of us won't be looking forward to the family fest that is Thanksgiving. But, I encourage you to think of it as one of those dappled things. It doesn't make it any less broken, but it is in its own way yet another thing to find God in the midst of. It is the extraordinary ceremony that is inherently possible, the beauty even, and certainly the dignity, of the ordinary and the everyday that "Pied Beauty" speaks.
Image credit: Wikimedia Commons